Former St. John's basketball star wants eligibility back after MLB talks stall
Former St. John's basketball star Amir Garrett posed an interesting yet funny comment after the latest news surrounding the start of Major League Baseball.
So, St. John's does have an open scholarship and it doesn't look like Amir Garrett will be taking the field for the Cincinnati Reds any time soon, so why not make it happen?
Well, there are a number of reasons, but it sure would be fun to dream of the possibility.
As tensions continue to rise and the likelihood of a Major League Baseball season continues to diminish, Amir Garrett took to Twitter to ask the Red Storm if he had any eligibility left since his fall and winter will be pretty quiet.
Garrett spent two years with the Johnnies, meaning he would still have two seasons of eligibility left if NCAA rules were extremely different.
In his two seasons in Queens, Garrett was a member of the Red Storm from 2011-2013 and over his career averaged 6.2 points and 4.2 rebounds on 44.4 percent shooting from the field.
The former four-star recruit transferred from St. John's after his sophomore season to Cal State Northridge with the idea of playing basketball, but before even stepping on the floor he left the school to pursue his professional baseball career.
Amir Garrett has been in the Reds organization since 2012 after he joined the Arizona Reds following his freshman season with the Johnnies and the pitcher got the call up to Cincinnati in 2017 and has been with club ever since.
ALSO READ: St. John's ahead of NCAA's suggestion regarding Election Day
The Los Angeles, California native has appeared in 151 games with the Reds, posting a 9-13 record with a 5.12 ERA.
If it was a perfect world, Amir Garrett would be a perfect addition to Mike Anderson's team as a tough, hard-nose player that the veteran head coach loves to search for on the recruiting trail.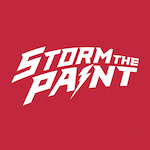 Want your voice heard? Join the Storm The Paint team!
Write for us!