St. John's soccer: Tani Oluwaseyi named as Preseason All-America First Team
St. John's soccer Forward Tani Oluwaseyi has been named to the Preseason All-America First Team.
On Wednesday it was announced that St. John's forward Tani Oluwaseyi was selected to the Preseason All-America First Team by College Soccer News.
The rising junior heads into the upcoming season on the back of a historic sophomore campaign last year for the Red Storm.
As a Mississauga, Ontario, Canada native, the forward was a key part of the Johnnies offense in 2019, leading the team and the Big East Conference with 11 goals along with five assists in 20 games.
ALSO READ: St. John's reaches out to 2021 junior college shooting guard
His 11 goals were the most goals in a season by a St. John's player since 2003 and led him to being named as the Big East Offensive Player of the Year in 2019, an award that has not been won by a St. John's player for nearly two decades.
Led by Oluwaseyi, the Red Storm finished the season with a record of 14-5-1, the highest win total for the program since 2008, and made the NCAA Tournament for the first time since 2013.
The Red Storm was ranked as high as No. 1 in the RPI index and No. 4 in the United Soccer Coaches poll and come into the season ranked at No. 17 in the country by College Soccer News.
However, it will be an unorthodox college soccer season in the Big East as the conference postponed all fall sports because of the coronavirus pandemic, the current plan and hope is to be able to play the season in the spring.
ALSO READ: St. John's makes Top-3 for Class of 2021 SG Rafael Pinzon
Despite all the circumstances and uncertainty surrounding the season, as is the case for most collegiate athletics, if there is a season the Red Storm will come in to it with plenty of expectations.
Along with Tani Oluwaseyi, the Red Storm will return most of the key starters from last season's impressive campaign where they were just four wins away from a National Championship.
St. John's saw its season end with a 3-0 loss to the eventual runner-up, the Virginia Cavaliers, in the Second Round of the NCAA Tournament and the expectation will be to build upon last year and make a much deeper run in the tournament.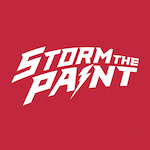 Want your voice heard? Join the Storm The Paint team!
Write for us!