St. John's basketball calls about Class of 2021 prospect Bryce Harris
The St. John's basketball program has reached out to Class of 2021 Bryce Harris who has recently transferred high school programs.
St. John's hunt for landing a recruit in the Class of 2021 continues as Mike Anderson and the Red Storm have recently reached out to prospect Bryce Harris.
Harris, a Brentwood, New York native, graduated from Greensboro Day School (N.C.) and will do a post-graduate season at Putnam Science Academy (PA) before heading off to college.
Listed as a 6-foot-6, 220-pound shooting guard, Bryce Harris already holds offers from St. Bonaventure, Hofstra, East Tennessee State, Mount St. Mary's, Wake Forest, North Carolina A&T, University of North Carolina at Wilmington, Merrrimack, Rice, Siena, Elon, Howard, Bryant, Stony Brook, and Lafayette.
In recent days, East Carolina, Connecticut, and the Red Storm have all reached out to the guard but none have officially extended an offer.
The Johnnies are still reeling from not landing a commitment from high priority Class of 2021 recruit Jordan Riley who opted for the Georgetown Hoyas over St. John's and others.
After the bad recruiting news last week, Mike Anderson has continued to push forward on the recruiting trail with a virtual meeting with '21 recruit Drissa Traore as the team is also connected to various rising seniors including Franck Kepnang, Samson Johnson, Alden Applewhite, and others.
ALSO READ: St. John's completes virtual meeting with prospect Drissa Traore
Despite a strong end to the season in 2019-2020 and keeping the young core of the team together for the 2020-21 season and possibly beyond, St. John's and its fans are eager to land that first recruit of the Class of 2021 as its fellow rivals and competitors in the Big East are continuing to add to their respective recruiting classes.
ALSO READ: Signs not pointing in favor of St. John's to land Franck Kepnang
In addition, Bryce Harris will also be playing with St. John's target Sean Durugordon, a fellow Class of 2021 recruit, who has received interest from the Red Storm but no official offer as of yet.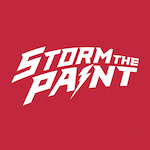 Want your voice heard? Join the Storm The Paint team!
Write for us!