St. John's basketball junior Josh Roberts looks primed for breakout season
St. John's basketball forward Josh Roberts looks ready to dominate the Big East during the 2020-21 season.
Everyone had different ways of spending their quarantine.
St. John's forward Josh Roberts spent his recovering from shoulder surgery and getting absolutely ripped in the weight room.
Photos of the new and improved Roberts surfaced during the week on Twitter from his aunt, who is a personal trainer and clearly spent some time with the junior over the spring and summer.
ALSO READ: St. John's still in the mix for Class of 2021 point guard
The images of Roberts span from April 4 to July 1 and the difference in the forward's body is simply amazing.
Josh Roberts is listed at 6-foot-9, 205 pounds on the Red Storm's official website and his strength in the post was his downfall once Big East play came around in late December.
Roberts dominated non-conference play against weaker opponents but failed to play up to those numbers in conference play as the physical nature of the Big East wore down the then sophomore in his first true test in the league.
The Troy, Alabama native did not seem much playing time in his freshman season under head coach Chris Mullin but started 28 of 29 games played in his sophomore campaign with Mike Anderson at the helm of the Johnnies.
ALSO READ: St. John's extends offer to Class of 2022 forward
Despite seeing his season come to an early end thanks to a shoulder injury suffered on March 1 in one of the highlight games of the season where St. John's rolled over then No. 10 Creighton, 91-71 in Carnesecca Arena.
Josh Roberts averaged 5.0 points, 5.0 rebounds, and 1.5 blocks per game last season while shooting 53.7 percent from the floor and an improving 42.9 percent from the free throw line.
With the team back on campus and workouts underway, expect Mike Anderson to work his big man back slowly as the Red Storm also have fellow junior Marcellus Earlington and George Washington graduate transfer Arnoldo Toro.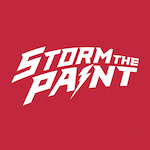 Want your voice heard? Join the Storm The Paint team!
Write for us!