St. John's basketball continues pursuit of Class of '22 star Roddy Gayle Jr.
The St. John's basketball program is continuing its pursuit of Class of 2022 guard Roddy Gayle Jr.
Mike Anderson and his coaching staff are continuing to work on their anticipated massing Class of 2022 recruiting haul by pressing on star junior Roddy Gayle Jr.
Gayle Jr. recently told Jake Weingarten of Stock Risers that St. John's has been prevalent in his recruitment after the Red Storm offered back on August 9.
While St. John's is the latest program to extend an offer to the top ranked player in New York State, there will be serious competition to try and keep the 6-foot-4 guard in the Empire State.
The Lewiston Porter Senior High School standout also holds offers from Buffalo, Rutgers, Niagara, Canisius, Alabama, Wake Forest, Oklahoma, Georgia, Syracuse, Tennessee, Nebraska, TCU, DePaul, LSU, Georgetown, Connecticut, Xavier, Ohio State, Marquette, Bryant, Seton Hall, and Louisville.
Roddy Gayle Jr. also told Weingarten that he has completed virtual calls with Marquette, UConn, and Ohio State over the last two weeks and the schools that are most heavily involved aside from the three listed above are Syracuse, Pittsburgh, Alabama, and Georgetown.
ALSO READ: St. John's lands second commit in Class of 2021, Rafael Pinzon
Listed as a four-star recruit, the Niagara Falls, New York native is also ranked as the No. 63 player in the Class of 2022, No. 12 shooting guard in the country, and No. 1 player in the state of New York.
St. John's does not have a commitment in the Class of 2022, but the program is starting to pick up steam in the Class of 2021 with two commitments in the last six weeks from Long Island Lutheran products Drissa Traore and Rafael Pinzon.
ALSO READ: St. John's extends offer to Class of 2022 forward
Roddy Gayle Jr. has not provided a timetable for his recruitment but expected a cutdown of his list fairly soon and St. John's could make his list of finalists with its recent interest and push from the coaching staff.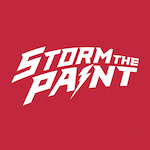 Want your voice heard? Join the Storm The Paint team!
Write for us!