St. John's baseball: Joe Panik finishes series strong against former team
Former St. John's baseball standout Joe Panik finished up his series strong against the New York Mets.
Joe Panik couldn't quite ride his hot streak into last week's game against the New York Yankees and New York Mets but the former Red Storm star finished up his week with a strong showing against his former team.
As the Toronto Blue Jays took down the Yankees in the first two games of its series, Panik was able to draw two walks and a run scored in the first game while posting a 1-for-3 showing with a run scored and two strikeouts in the second game of the series.
The single rose Panik's batting average to .273 on the season, the highest it has been this year, but the average fell to .259 following his 0-for-4 in the final game of the series with the Bronx Bombers.
New York's crosstown rival the Mets then took the trip up to Buffalo as Joe Panik faced his former team for the first time in his career after spending last season with The Amazins.
In what was a complete debacle for the Blue Jays, Panik was 0-for-4 in Toronto's 18-1 loss to the Mets, but the team would respond with victories in the next two games of the series.
Panik also responded from his 0-for-8 slide with a 2-for-3 day on Saturday with a walk and a strikeout.
The two hits in the 3-2 victory brought the former Johnnie's batting average to .261 on the season, but Joe Panik is hitting .357 in the month of September as the Blue Jays continue to fight for a postseason berth.
ALSO READ: St. John's junior Josh Roberts looks primed for breakout season
Toronto currently holds a half game lead over the New York Yankees for second place in the American League East, which is an automatic qualifying spot in the 2020 MLB playoffs, and the Jays are three and a half games behind the Tampa Bay Rays for first place in the division.
ALSO READ: St. John's extends offer to Class of 2022 forward
Holding a 26-20 record, the Toronto Blue Jays are set for another critical three game series with the New York Yankees in the Bronx, New York on Tuesday, September 15 with first pitch at 7:05pm EST.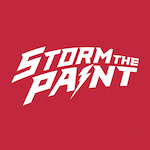 Want your voice heard? Join the Storm The Paint team!
Write for us!